Toper Large Rectangular Coffee Bean Dispensing Silos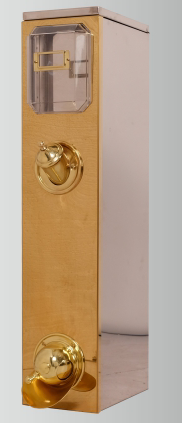 Toper coffee bean silo, 14kilo capacity with twist dispense, these are ordered from the manufacturer expect upto 3 weeks delay from ordering.
We offer discounts on bulk purchases of these, buy 5 or more and get a 5% discount, 10 or more and get a 10% discount, 20 or more and get a 15% discount. Use the contact bar bottom right to get a quote and lead times.
Height: 92cm
Width: 20cm
Depth: 29cm
Colour options are Brass, Chrome or Copper. Please note these are ordered from the manufacturer, please use the contact form to find out an accurate lead time before ordering.
   SHIPPING IS NOT INCLUDED IN THE SILOS PRICE, SHIPPING WILL BE CALCULATED SEPERATELY WHEN WE KNOW HOW MANY SILOS YOU ARE ORDERING AND WHERE THEY ARE SHIPPED TO. PLEASE USE OUR CONTACT FORM TO ASK FOR A SHIPPING COST BASED ON YOUR REQUIREMENTS.
Premium storage, display and keeping solution
Toper rectangular silos are the ideal for storage display and keeping coffee beans varieties in coffee shops, supermarkets, restaurants, shopping centers, etc.
Individual or multiple Toper rectangular silos fit almost any shelf system due to their rectangular design.
Multi-purpose and multi-safe
Rectangular silos are used for storing all kinds of granular food like nuts as well as coffee beans.
Toper rectangular silos conform food safety standards of various countries.
Standard features
Patented design for best keeping conditions
Patented discharge outlet
Display window
Premium quality food-safe chamber
TKBS 3
| | |
| --- | --- |
| Storage capacity (kg) | 14 |
| Standart dimensions (W-H-D) cm | 92 x 20 x 29 |
| Standards | ISO-9001:2008 - CE |
---
Products you might wish to purchase with this
{{#products}}