Toper Cafemino 1kg Gas Coffee Roaster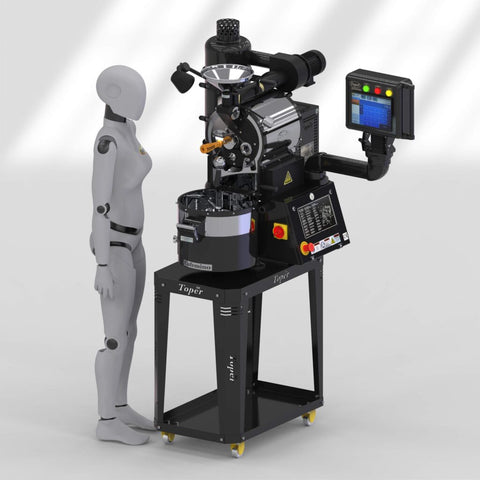 The Toper Cafemino is a Mini Professional coffee roaster, bringing all the advantages and superiorities of Toper industrial roasters onto the table top. It fits everywhere with tiny dimensions and roasts up to 6kg/h with premium quality roasting ability. Toper spent more then two years in research and development to ensure the Toper Cafemino makes use of the greatest technology in the smallest dimensions and has the lastest industrial coffee roasting technologies. The safety, heat and energy control systems of Cafemino are the most efficient roastings systems in the world.
Cafemino is great at cafes and point of sales for its superior quality and industrial running capacity. Cafemino takes the great attention of World Coffee Specialists for it's ability to roast lower volumes then it's maximum of 1kg green coffee beans.
* Cafemino has a special mixer and cooling tray
* It enables you to roast and cool at the same time
* Roasting time is 12 min
* There is a sampling light which enables you to check and see the real color of the coffee during roasting.
* There is a sight glass so you can clearly see the coffee roast progress
* There is a sampling scoop, so you can remove beans to compare the colours with your standards. 
* Optional extra - upgrade to the Toper Touch Profile System - can only be fitted on manufacture.
* Low consumption
* Instruction and user manual in CD
* Free table + apron
* 1 year general warranty
* technical support any time
This roaster is sample roaster as well as being a commercial roaster that fits perfect in Coffee Shops.
Cafemino, designed and launched after 2 years development research, is ranking among the best roasting machines of world in 32 countries since 2006 that has been sold. Fully complying with different geographical conditions, climate zones, coffee cultures and operational needs, Cafemino is capable to roast all kinds of green coffee beans of the world.  The innovations of new Cafemino will ease Roastmasters' work a lot and of course we see our Cafemino as a gift to the Specialty Coffee World.
         Cafemino Gas Coffee Roaster is an ideal machine which is able to use at Home, Coffee Shops, Labs and etc. easily.
•             It is suitable for customers who have Gas Pipe Connection Unit on their own Home, Coffee Shop or Labs.
•             You can roast minimum 50 grams Green Coffee beans with your Cafemino. Which can roast non-stop approximately 8 hours in a day.
•             Cafemino Gas gives you a better quality coffee roasting chance other than any of roasters with any flavor lose while it is running.
Cafemino® Gas offers superior coffee roasting quality and industrial performance with various gas options with upmost safety. Coffee enthusiasts in Europe and USA were engaged Cafemino® for home use since 2010 for its 150 g/batch coffee roasting capability.
Cafe owners, micro-roasteries and retail chains, as well as quality labs of some major roasteries which prefer gas system with various fuel options use Cafemino® Gas mini coffee roaster. It offers coffee roasting capacity up to 6 kg/hour and continuous running up to 10 hours with top gas safety and fire prevention.
Cafemino® perfectly accomplishes every kind of sample coffee roasting for wholesale. Coffee's sensory properties (smell, aroma, taste, etc.) will be perfecty discovered and consistent, right profiles are created with very small batches. Cafemino® is widely preferred by the leading coffee roasters of the world.
The Cafemino Gas requires 100mm Aluminium Ducting venting outside, this ducting is also the flue for the gas burner. When you have the gas burner commissioned by a gas safe engineer, ensure they check your ducting is suitable as a flue for the burner. Gas burners consume oxygen, so you should always be roasting in a well ventilated room. As with any gas burning appliance a carbon monoxide detector is strongly advised.
The Cafemino comes with it's own stand as pictured, it will need ducting outside by using 100mm flexible aluminium ducting from the chaff collector to the outside of your building. Power is supplied by a 20amp 3 pin hook up, which will need hard wiring to your fuse box with a suitable rated fuse inside.
Unless otherwise specified, Toper Roasters are built to order by the Factory in Turkey. Normal turnaround from a confirmed order is 6 to 8 weeks, although Toper do sometimes have stock available or being built for stock so it is always worth contacting us to confirm a delivery time on any specific model. Prices include crated delivery to your premises only, removing the roaster from the crate and into your premises will be at your own cost. Fitting suitable extraction, connecting to electricity and gas supplies as required will also be at your cost. Warranty covers non-wearing parts only, should an issue arise a replacement part will be sent to you and then an engineer arranged to fit the part. Warranty does not include issues caused by failure to clean the roaster, especially where chaff is allowed to build up or where the fan is not cleaned as per the roaster manual specification. All the general maintenance instructions in the Toper user manual should be followed in full, issues caused by failure to perform tasks such as drum alignment as per the manufacturers instructions will be full chargeable to resolve.
---
Products you might wish to purchase with this
{{#products}}