Destoner
Toper Destoner System TDS-15 (For 3kg, 5kg, 10kg and 15kg Coffee Roasters)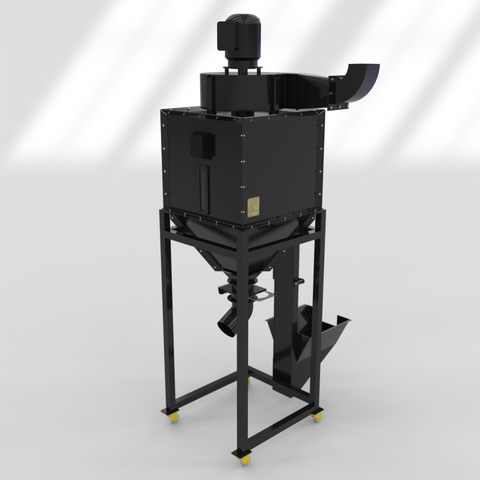 Toper destoners pneumatically remove all kinds of stone, metal and similar foreign bodies existing in coffee beans, legumes, spices and grained food.
The destoners developed by Toper R&D department are mobile and very easy-to-use.
They are also used as product silos and do not harm or rumple the products during destoning.
**Toper are no longer providing any sort of filter on the destoner air outlet, ideally they say it would be better to attach ducting to vent any chaff or dust outside. All you now receive is as per the main picture, an open outlet venting upwards.**
Please note the TDS-15 can be used for any weight upto 15kg, so can be used with a 3kg, 5kg, 10kg, 15kg Roasters.
Destoners are priced excluding shipping, if you purchase an Destoner at the same time as a coffee roaster then this is the price you will pay. If you wish to purchase an Destoner on it's own shipping will be charged on top of the above price - and is calculated by Toper at the time of ordering.
| PROPERTY | VALUE |
| --- | --- |
| Dimensions (W-H-D) cm | 104 x 229 x 113 |
| Weight | 58 |
| Standarts | ISO-9001:2015 - CE - TSE |
| Destoner capacity (kg/h) | 225 |
| Power requirement, three-phase (A) | 5,2 |
| Power requirement, Single Phase (A) | 12 |
| Frequency (Hz) | 50 - 60 |
| Voltage | 100 - 110 - 220 - 230 - 380V |
| Power consumption, Single Phase (kW/h) | 1,1 |
---
Products you might wish to purchase with this
{{#products}}