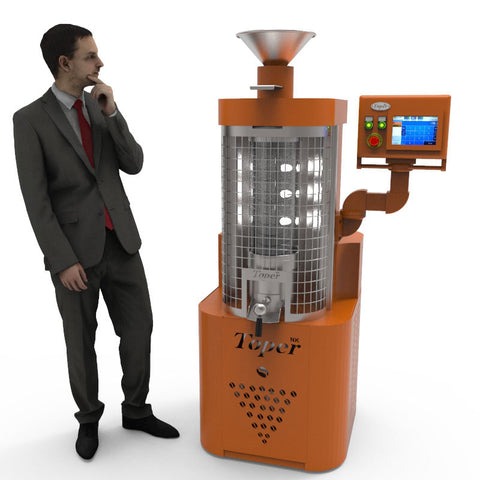 The Toper Optical 2kg roaster makes use of a hot air fluid bed to roast coffee, it is electrically heated and requires three phase power to run. It also requires indirect ducting, Toper advise something like a cooker extraction hood above the roaster to extract the hot air and smoke from roasting coffee.
Operation is simple, fill the hopper on top with your green coffee, start the roast cycle on the touch panel, open the green coffee hopper to allow the coffee in. The coffee will roast according to the roast profile. When the profile completes release the roasted coffee from the drum gate at the base.
 We have one unit available from stock in the UK coloured Red - if you wish to arrange to come and see it working please get in touch to book a visiting date.
Toper Optical Roasters fluid bed roasting system Provides 100% convection coffee roasting
STANDARD FEATURES
Glass roasting chamber
Digital temperature control
Sample spoon
Full automatic hot air flow control
Interior lighting
Chaff Collector
Touch screen profile system
Compatibility with third-party profile software (Cropster / Artisan etc.)
Toper manufacture this hot air fluid bed roaster capable of roasting 2kg of green coffee, it makes use of the Toper touch profile system to run profile roasts of your coffee, and can be connected to a computer via ethernet cable to use Artisan or Cropster.
The fluid bed roasting system provides 100% convection coffee roasting.
Glass Roasting Chamber
Digital Temperature Control
Full automatic hot air flow control
Interior Lighting
Chaff Collector
Touch Screen Profile System
Compatability with third-party profile software like Cropster or Artisan
Does not require exhaust ducting but you are advised to use under an extraction hood
Electrically heated requires 3 Phase power to run, each line 23 Amps total power requirement 40amps.
Roasting time is 12 minutes for medium roast, 14 minutes for dark roast.
 Price includes crated delivery from the factory in Turkey to your premises, purchaser will be responsible for removing the roaster from it's crate, suitably positioning it and arranging for an electrician to connect up it's three phase power socket and receiver. Operation guidance and support can be arranged via Skype calls to the factory in Turkey.
Includes 12 months parts only Warranty.

Build time approximately 4-5 weeks.
---
Products you might wish to purchase with this
{{#products}}